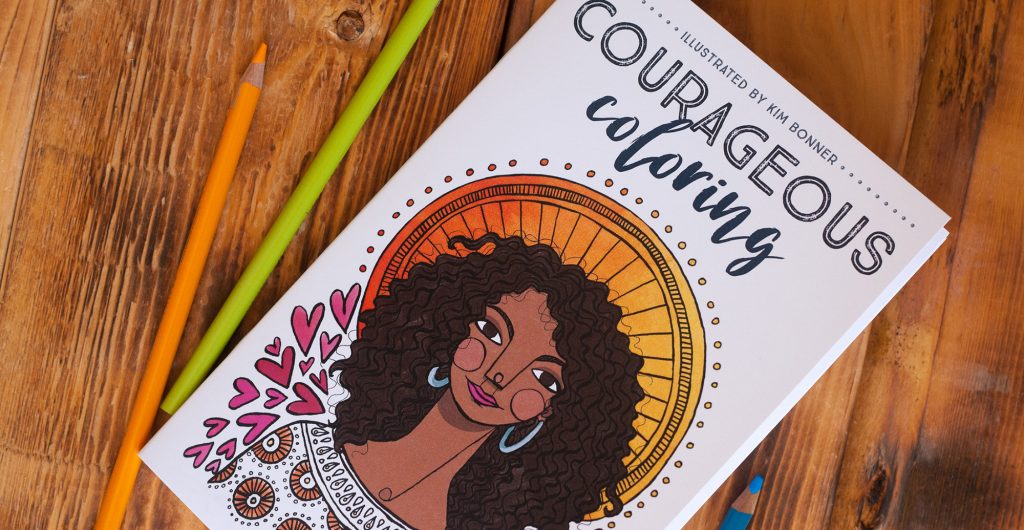 The Story Behind Courageous Coloring
Many times foster kids arrive at a new placement with a trash bag full of hastily gathered items or even just the clothes on their back. I wanted to provide girls with something that would help them through a stressful time and also be a creative outlet for them.
Courageous Coloring features 21 coloring pages full of inspiring words and imagery. There are journal prompts, affirmations, and stress relief tips on the facing pages. Subjects in the book include self-care, planning for the future, and celebrating differences. I worked with a foster care program director and a school counselor to get feedback on the text of the workbook.
One thing I heard from social workers and foster kids is that they felt awkward or ashamed about being in foster care. They felt different from other kids because they had to meet with caseworkers and go to court. I tried to address that in the workbook. I wanted them to know that most of us have things in our lives that makes us feel different and that's OK."'Different" isn't something to be ashamed of.
First Steps
In May of 2017, I started collecting donations to print 300 copies for DePaul Community Resources, a foster care organization in Virginia. In less than 48 hours people had donated all the money to print the books! As people found out about the idea, they started asking if they could buy copies for themselves. That was my eureka moment: I realized I could sell coloring books to fund the coloring workbooks that I'd give away. So the one-for-one program was born!
One-for-One
There are two versions of this coloring book. One is the coloring workbook and the other one is a coloring book only. For every coloring book or workbook that is purchased, a coloring workbook will be given to a girl in foster care. The coloring workbooks are given to nonprofits that create welcome backpacks for kids entering foster care, or other foster care organizations that request coloring books to use as therapeutic tools for their clients.
The Courageous Coloring workbook and the coloring book are both available in the Make Lovely Things shop.
Let's Talk!
If you work for a nonprofit that serves youth in foster care, please contact me! I am always looking for organizations to partner with.
For every Courageous Coloring workbook or coloring book that you purchase, another Courageous Coloring workbook is given to a girl in foster care.